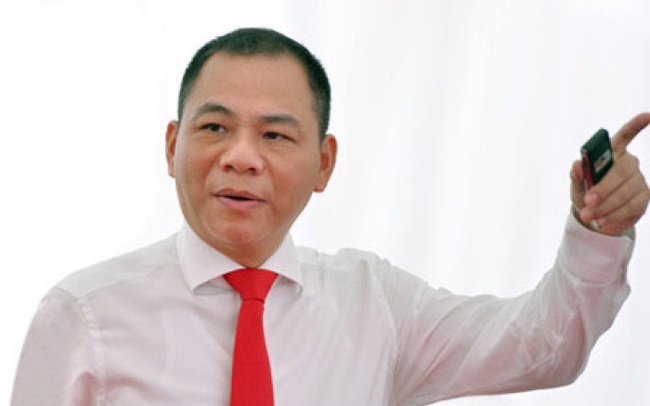 The retail segment, which brought in nearly VND 30,000 billion in revenue last year, will no longer contribute revenue from next year due to the transfer of control of Vincommerce to Masan Group from the end of December 2019.
Vingroup has just announced that the system's consolidated revenue in 2019 reached approximately VND 131,000 billion – an increase of 7.3% compared to VND 122,000 billion of the previous year.
Except for real estate business which saw a 23% drop in revenue – from VND 83,300 billion to VND 64,500 billion – due to a decrease in the number of hand-over, other businesses all grew 2 digits over the same period. Currently VinHomes is focusing on wholesale activities at large projects such as VinHomes Ocean Park and VinHomes Smart City with better profit margins.
This is also the first year the proportion of real estate transfer revenue has decreased to less than 50% of the group's total revenue (reaching 49% compared to 68% of the previous year).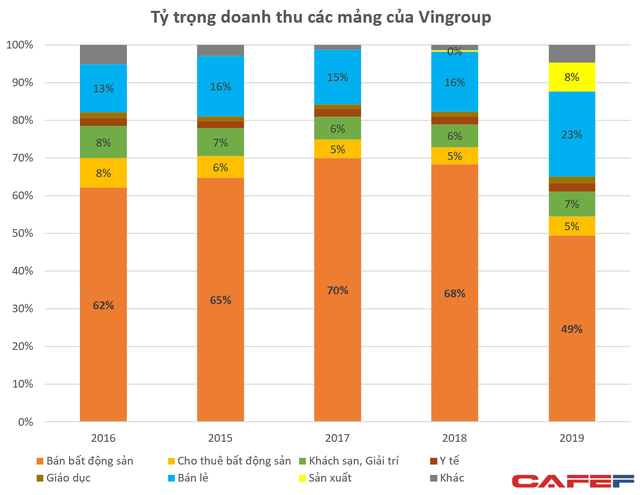 Two other businesses related to the real estate sector are Vincom Retail Real Estate Leasing reaching nearly VND 7,000 billion (up 25%) and Vinpearl's hotels and entertainment reaching VND 8,500 billion (up 16%) – The contribution is respectively 5% and 6% of total revenue.
In 2019, Vincom Retail has launched a total of 13 new projects, bringing the total number of commercial centers operating on December 31, 2019 to 79 with a total retail floor area of 1.6 million m2, operating. activities in 43 provinces.
The health sector achieved VND 3,000 billion in revenue and education with VND 2,000 billion.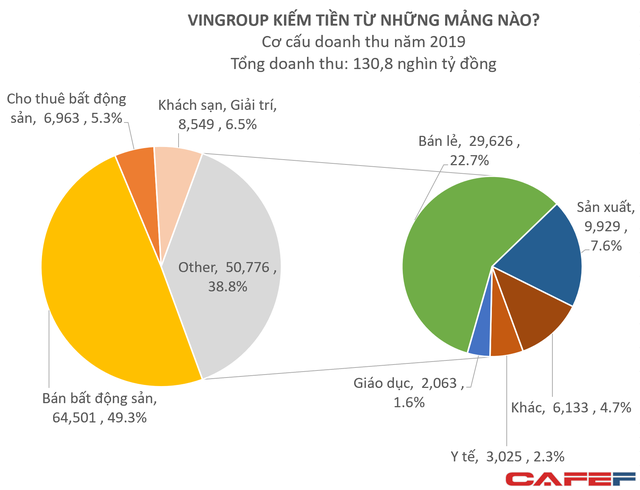 Retail sales grew by 53% from VND 19,300 billion to VND 29,600 billion, accounting for 23% of total revenue. However, from 2020, Vingroup will have virtually no revenue from the retail segment when it has transferred control of Vincommerce to Masan since the end of December 2019 and proceeded to dissolve the VinPro / Telecommunications system A.
Production and related services – including VinSmart phones and VinFast cars and motorbikes – reached VND 9,900 billion in revenue while last year was VND 556 billion. On January 17, 2020, VinFast announced that more than 17,000 cars and 50,000 electric motorbikes under the VinFast brand were ordered by customers. In 2019, VinSmart sold 600 thousand smartphones and recorded a market share of 7.5% in December.