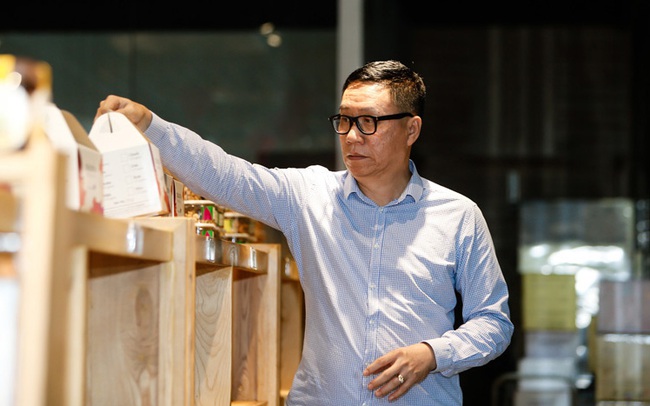 Mr. Nguyen Lam Vien – Chairman and CEO of Vinamit Company gave 5 "straight but true" advice to young people before deciding to open a startup.
Being a successful entrepreneur in the field of dry food, dried fruit … since 1988, Mr. Nguyen Lam Vien – Chairman of the Board of Directors, CEO of Vinanamit Company draws a lot of blood experience on the journey to success. mine. Sharing with young intellectuals, the owner of the brand associated with jackfruit gave 5 practical tips for startups amid the booming startup storm in Vietnam.
Want to start a business, you must like to do hard things
According to Mr. Vien, if a young person wants to start a business successfully, he must first know how to do difficult things, like to do difficult things. If the ability to do difficult things is not available, it must have clear thinking, practice hard work for many years.
"In fact, many people are very reluctant to do hard work, find it hard to avoid, push for others. If you do not like to do difficult things, how can you solve problems when starting a business ?. is working both in the family, in society, at the company … I myself must be a person who likes to do difficult things. expand knowledge.
When I do something I have to wholeheartedly, learn a lot, then I will be good and improve. As for good ideas, everyone has, a bunch of ideas but whether or not it is the problem, "Mr. Vien said.
Practice doing work before mastering
According to Mr. Vien, the second factor that a startup needs is to hunt for new opportunities. Each person has to weave into society. Hunt ideas from inside the house, on the road, looking for public projects, private projects, then outsourcing, subcontracting projects to them.
When accepting a job, everyone is responsible for arriving. If doing carelessly will be deducted money, compensation, much cursed, it will gradually get up and accumulate countless valuable experiences.
When the working time is sufficiently thick, that person can master it, not to use it and jump over to be the boss. Therefore, to be a startup, each person has to weave to find new opportunities for themselves.
Preventive thinking with risk
A third baggage of a startup is to be aware of the risks. According to Mr. Vien, there are many ways for a startup to speculate to avoid risks such as buying a gold tree is also speculation, buying a house, buying land … in case it fails, there is a way to save himself.
"Speculating to make a profit to save yourself when failure is the right thing to do. Should not have much capital, then pour all of the capital to start a business. All Vietnamese businesses without land will collapse long ago. Business is there. Failure, profit and loss is normal so should be calculated in advance.
There are many new successful people who rushed to buy a house, buy a car, buy toys, drink … it is not the thinking of real business people, "Mr. Vien shared.
To be the boss, you must first learn to be the CEO
The fourth thought in starting a business is to study hard to become a true CEO. The CEO who does not know the finance, the accountant does not know, the plan does not know, the marketing does not know, the R&B does not know, the production must be delivered to others in whole … it is difficult to master.
If you are not a CEO, you will not be able to master it. Because if you do not know the CEO, when CEO will CEO overtake.
There must be a startup script
Mr. Vien said that if a startup does not know where the company's scenario is going, it is very dangerous. "The startup must determine what they do this business to do? To make money, to sell or work for passion, to go to the IPO floor … or whatever, there must be a proper script.
Over here, many of you go to work without a script, and you don't know what you're doing. Many people think that starting a business just needs a good idea, but once you do, you will encounter a big tree right in front of the alley. Then you realize all that you imagine people have done already and so frustrated, give up.
Therefore, entrepreneurs must know how to look ahead. Ideas are many, but when your ideas are sold to buyers, it is a good idea, and no one is not sure to buy something good.
For example, there was a young man when I graduated from school who asked me for advice on a start-up idea
That friend said that she would import foreign technology for beautiful packaging, unique products that no one had in Vietnam market yet and dream of a day of great success. I asked where you were going to borrow capital. I recommend you to stop otherwise depressive days. In the end you didn't listen and then failed, lost …
The story shows that many young people still do not understand the true nature of starting a business. If you want to do something, you have to study it properly, you can't just go to work, borrow everywhere, mortgage your parents' house and break it down then who will suffer? " Vinamit analysis.
According to Mr. Vien, those are 5 fundamental elements of a startup that startups absolutely must not overlook.
"Startup without these thoughts, I guarantee not to go more than 5 years, let alone 20 years. A successful business must stand on the market for about 20, I believe to be successful. Also call a lot of capital It is impossible to assess whether they are successful or not but also have to go through a long journey.For those who have experienced thick enough, big enough with the 5 above factors, I believe they will succeed, whether new ideas or even go the way other people have … ", Mr. Vien concluded.